Dr Sarita McHarg
Musician – Teacher – Author

Indian Classical Sitar and Surbahar

Vocals (Classical, Light Classical and Folk)
SAFFRON CONNECTION
Farouk's Olive, Melbourne – 2018
Sarita – Sitar & Vocals Byron – Bouzouki, Guitar & Vocals
Basil – Trumpet & Percussion Manmit – Tabla
Sarita performed vocal and sitar recitals for Amma's 2017 Australian Tour
Sri Mata Amritanandamayi Devi
Sarita's recital at Cheltenham Community Centre Multicultural Festival
Melbourne Australia on Sunday 26th March 2017
Sarita's recital at Open Studio in Northcote, Melbourne
on Saturday 25th February 2017
Sarita's recital at Shri Durga Temple celebration of Maha Shivratri
at Rockbank, Melbourne on Friday 24th February 2017
Below: Sarita recording at Ujjain, India – June, 2011


Below: Sarita on stage with accompanying musicians
at Ujjain's famous Mahakaleshwar Temple (Shavan Mahotsav) – July 2016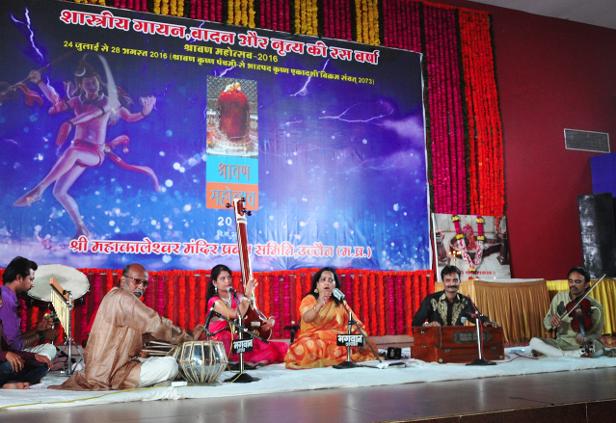 Below: Sarita (left) on stage with

renowned Bollywood film maestro
Ravindra Jain (centre

) at Clock Tower Concert, Ujjain, India – August, 2008


Below: Sarita (sitar & vocal) concert recital with Glen Kniebeiss (tabla)


Cheltenham Church of Christ

, Melbourne, Australia — August, 2007


Below: Sarita (sitar & vocal) with Monash University
World Music Orchestra


International Jazz Festival

Melbourne, Australia — May, 2007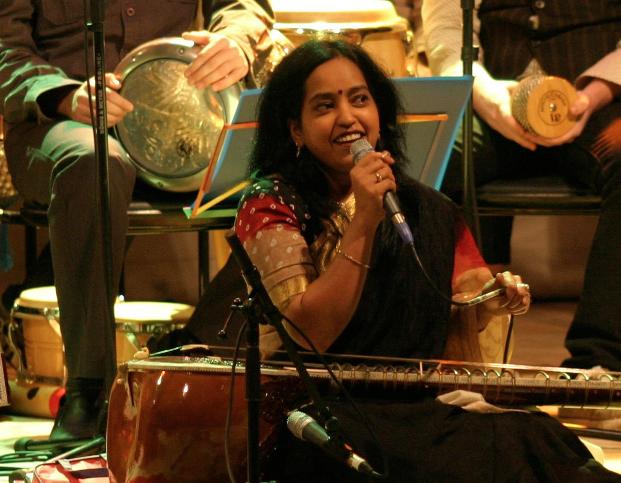 Father of Modern Hindusthani Classical Music Founder of the
Senia-Maihar Gharana
Ustad (Baba) Allauddin Khan (1881–1972)
Nowhere
in Indian classical music history is there a musician/composer/innovator/teacher of Baba Allauddin Khan's stature.
His amazing virtuosity with different instruments included:
flute, clarinet, cornet, piccolo, mandolin, banjo, violin, piano, sarod, shenai,
naquara,
jagajhampa,
tiquara
, israj, sursringar, surbahar, sitar, rabab, mridangam, tabla and pakhawaj, plus a variety of other string and percussion instruments. He could make music on any instrument placed in his hands.

Annapurna Devi (Surbahar) daughter of Ustad (Baba) Allauddin Khan
Below is a very old recording of Annapurna Devi playing the Surbahar. The daughter of Ustad (Baba) Allauddin Khan, Annapurnaji is recognised as the true torch bearer of her father's music. Even though her father praised her as the best and most pure of his students, she never took up music as a professional performer and never made any commercial recordings of her music. In spite of this, she gained a huge following and won the hearts and minds of classical music critics and devotees throughout India.
Annapurna is quoted by her biographer, Swapan Kumar Bondyopadhay, as lamenting that today's music is far from pure, and that listeners have been misled.
"The music you hear today, especially instrumental music, is miles from its purest form. It is regrettable that the taste of the listeners has also been forced to change… … …
Many so-called artists, including some of our most popular ones, are projecting before the audience distorted or even vulgar images of an art which is infinitely noble; an art which has the power to lead you into a trance onto the shores of tranquility."
Pundit Jotin Bhattacharya, Dr (Baba) Khan's official biographer, wrote about Annapurna's recital for the Maharajah of Maihar as follows.
"When she was at her best, the Maharajah was inspired and tears of joy trickled out of his eyes. He remarked that he was more or less hypnotised by her performance, which was indescribable."

Below: Rare recording of Panditayen Annapurna Devi on Surbahar
Now Available:
Traditional Folk Songs of Malwa
English / Hindi

Preview and/or purchase at:

http://pothi.com/pothi/book/sarita-mckenzie-mcharg-traditional-folk-songs-malwa

Tribute
"I am confident that authorities
and scholars who examine this
publication will dive deep into its
contents and will ultimately find
themselves immersed in the realm of folk emotions."
"I must wholeheartedly thank all
those who contributed to
this worthy endeavour with an
expectation of many more such
works to be forthcoming in the future."
Dr ShyamSunder Nigam
Director
Shri Kaveri Research Institute

Ujjain, (M.P.) India.
Now Available:
Preview and/or purchase at:
http://pothi.com/pothi/book/dr-sarita-mckenzie-mcharg-dr-baba-allauddin-khan-1881–1972
Dr (Baba) Allauddin Khan (1881-1872)

An amazing story of dedication, perseverance and the triumphant rise of a runaway Indian boy who would eventually inspire thousands of musicians around the world.

Baba Allauddin Khan led the way in the modern renaissance of Indian classical music, and he displayed profound appreciation for the spiritual value of music, and its importance to society. After many years of struggle against all kinds of impediments, he developed a rich and abiding love and understanding of music that stood him apart from his peers.
Like so many great individuals in human history, he endured much criticism throughout his working life–mostly for his deviation from tradition. He was especially innovative in crashing down the barriers to an open learning system for Indian classical music. He taught all-comers because he remembered the earlier pain of his own rejection. But he only ever broke outdated, unwritten rules that he believed were restrictions to the furthering and betterment of Indian classical music.

Like Mian Tansen in the 16th century, Baba Allauddin Khan rekindled the flame of passion for Indian music during the 20th century.

Now Available:
India's English Language Writing Guide
Preview and/or purchase at::
http://pothi.com/pothi/book/gary-j-mckenzie-mcharg-indias-english-language-writing-guide

Students, Teachers, Aspiring Authors, Editors, Business Writers, Instructional Designers, Reviewers and Publishers

This English Language Writing Guide aims to assist with matters of style and language.
In the modern era, complex language and the lack of simple punctuation can cause serious problems for readers of English language publications. For this reason, most of the guidelines expressed in Part 1 show simple writing methods that will help your readers to understand the contents at the first reading.
Part 2 addresses technical conventions for publishing; and
Part 3 is designed to assist new writers in the areas of fiction, academics and business.